Daar-Kareth
22-12-2007 17:39:02
Archanis's Aedile wants you to guess what's in his stocking!
This is a graphic based small comp that will run on the messageboards.
A series of holdiday themed images of mystery items will be presented,
along with a list of what the items are in a random order.
posting answers will be very simple, and fun. A great small holiday themed
competition similar to a caption comp.
Using the images of the mystery items, and the list of items provided, you will guess what Daar is getting for xmass!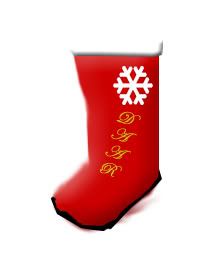 There are 5 items in total, you will have to guess what four are in the holiday stocking!



Nose hair trimmer & Electric shaver
Chrome dome wax
Crappy xmass music
Sithbrand boot polish
Bananna sandwhich
This competition will run till the 27th.
Details can be found here:
http://www.darkjedibrotherhood.org/dbjedi/...rt=desc&ID=3131
Crappy xmass music, Bananna sandwhich, Chrome dome wax, and Nose hair trimmer & Electric shaver. Thats my answer
Itachi Uchiha
22-12-2007 18:41:46
Crappy X-mas music, Bananna sandwich, Nose hair trimmer and shaver, boot polish
JH Itachi Uchiha (Obelisk)/TRP/Archanis of Taldryan [ACC: INI]
SC / DC / SN / Cr-1E-1Q / PoB / CF-GF / SI / LS / S:-19P
Gobhainn Sgath
22-12-2007 19:53:13
Nose hair trimmer & Electric shaver
Chrome dome wax
Sithbrand boot polish
Bananna sandwhich
Rannik
22-12-2007 23:09:48
Nose hair trimmers & Electric shaver
Sithbrand Boot Polish
Crappy X-Mas music
bananna sandwich.... (Reminds me of that bananna smoothy song by the Naked Brothers Band!)
Aidan Kincaid
23-12-2007 00:01:55
I'm not in Archanis, but I assume Daar has a stocking stuffed full of sextoys... Crix gets rather kinky this time of year (Santa fetish ftl =\)
Nightroad
23-12-2007 10:45:17
I say:
Nose hair trimmer & Electric shaver
Chrome dome wax
Crappy xmass music
Sithbrand boot polish